FDA Calls Teen Use of E-cigarettes an "Epidemic"
6 min read
|
September 12, 2018
|
Calling teenage use of electronic cigarettes an epidemic, the U.S. Food and Drug Administration has given makers of the popular vaping device two months to prove they can keep them away from minors. The agency will also investigate the marketing and sales practices of the five e-cig makers — Juul, MarkTen, Vuse, Blu and Logic — that control the e-cigarette market.
The announcement came on the heels of a summer-long crackdown that targeted 1,300 retailers who illegally sold e-cigs to minor. It was the largest enforcement action in the agency's history.
For many who have witnessed the alarming increase in the popularity of vaping, this is a welcomed and necessary step.
"Clearly it gets to the heart of trying to stop addiction to nicotine in any form," says Wendy Blair Stephan, health education coordinator for the Florida Poison Information Center at the University of Miami Health Systems. "Limiting access is very, very important."
But, she adds, it's not enough. Stephan would like to see more educational programs warning teens about the dangers. "Kids still don't see them [e-cigs] as addictive. They think it's about flavoring. We need to explain, to tell that them why doing this is so harmful."
The feds have their work cut out for them, though.
Vaping is a growing attraction among the younger demographic.
As Stephan explains, "they're considered cool and edgy, which creates a social demand for them." Teachers report seeing more of them around middle and high schools campuses and school boards around the country have struggled to find a way to control, or outright ban them.
Yet, with all the attention paid to e-cigs, there is a lack of both conclusive research and product regulations, which makes them very accessible.
"It's kind of like the wild, wild west out there," Blair says. "And it doesn't help that they look so enticing [to youth]."
Juuls are the most popular of the vapes, with one report saying they account for at least one third of the market. Their growing acceptance may stem from the fact that they don't really look like e-cigarettes. They're more like a flash drive and can even be charged on a laptop's USB drive.
And because they produce less vapor than other e-cigs, young people find it easy to hide their use from adults. Stephan says one of her neighbors, a middle school teacher, recently confiscated a Juul in her classroom and the student was suspended. Another friend discovered that all three of her sons were vaping.
"A student can sit in the back of the room and not be noticed," she says.
States already are grappling with how to deal with a device that can be used without detection. But will that be enough?
Juuls' popularity is especially worrisome for parents and healthcare professions because the brand does not offer a non-nicotine alternative, though other e-cigs do, Stephan said.
What's more, each Juul cartridge contains as much nicotine as an entire pack of cigarettes.
Many young people probably don't know that, she adds, and are instead enticed by the trend factor, the ease of use and the flavoring. The growing popularity of vaping comes at a time when conventional smoking has dropped among young people, a result of public health awareness campaigns. From 2011 to 2016, cigarette smoking among middle school students decreased 4.3% and 15.8% among high schoolers, the CDC reports.
Vaping, on the other hand, seems to offer a ready alternative. The vapor can be hard to detect and the e-liquids are offered in different flavors. But "people don't realize that there's nicotine in them and that they're risking addiction," Stephan says.
E-cigs, Stephan adds, weren't initially a cause for concern.
When they debuted commercially in the U.S. in 2007, the target audience was current smokers who wanted to quit. Vaping, which delivers nicotine and other chemicals in the form of vapor, was believed to be a safer alternative to actual cigarettes.
"The thought was that it might be a positive thing for people who wanted to quit," Stephan says, "but now we're also getting good research that new people, non-smokers, are starting to pick up e-cigarettes."
In fact, according to a Wells Fargo Securities report, the e-cigarette market could race past the conventional cigarette market by 2023 — and that growth is coming from younger people. While most of the e-cig users who are 45 or older were either former or current smokers, 40% of e-cig users in the 18- to-24-years-old demographic, have never been cigarette smokers.
Other statistics also point to increase use by an even younger audience.
Use of e-cigs in the past month went from 1.5% in 2011 to 16% in 2015 among high school students, according to the Centers for Disease Control and Prevention. During that same time period, past-month use increased from 0.6 to 5.3% among middle schoolers. All in all, an estimated three million middle and high school kids were currently using vapes.
Adding to that concern, a December 2015 Harvard study found diacetyl, which is associated with "popcorn lung," present in e-cigarettes, though the study did not conclude e-cigs actually caused the incurable lung disease. (The study did suggest "urgent action" for more research.)
E-cigarette toxicity has also become a problem.
Calls to poison control centers about the condition, particularly in children, have steadily increased in the past three years, Stephan says. In addition, Stephan is also seeing more cases of nicotine poisoning.
"We've gotten calls [at the Poison Control Center] from people complaining of nausea, vomiting, abdominal pains, and it's turned out to be poisoning from the delivery of high doses of nicotine, especially as an initial exposure," she says.
This, too, inordinately affects children and teens.
While the FDA banned e-cig sales to minors beginning in August 2016, that hasn't stopped retail activity aimed at this demographic.
The FDA crackdown prompted FDA Commissioner Dr. Scott Gottlieb to announce in an agency news release earlier this year that "this blitz, and resulting actions, should serve as notice that we will not tolerate the sale of any tobacco products to youth."
The agency has also requested documents from the maker of Juul to analyze why kids find the product so appealing. In the meantime, Stephan suggests parents sit down with their children to have a frank talk about e-cigarettes. "Students," she says, "need to recognize and understand that there are potential dangers to these products."
---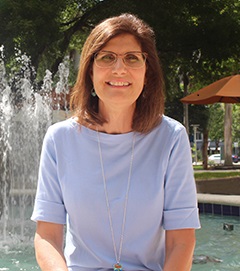 Ana Veciana-Suarez, Guest Contributor
Ana is a regular contributor to the University of Miami Health System. She is a renowned journalist and author, who has worked at The Miami Herald, The Miami News and The Palm Beach Post. Visit her website at anavecianasuarez.com or follow @AnaVeciana on Twitter.
Tags: Ana Veciana Suarez, e-cigs, FDA, Florida Poison Information Center, juuling, nicotine poisoning, Ophthalmology, smoking, vaping, Wendy Blair Stephan
Continue Reading