Are Melatonin Gummies Safe For Kids?    
Melatonin, the hormone that regulates our sleep-wake cycle, has become a widely used supplement as more Americans have insomnia. So it should be no surprise that calls to poison centers of children ingesting this sleep aid have spiked as well.
A new report by the U.S. Centers for Disease Control and Prevention reveals that the number of kids who accidentally ingested the supplement jumped by a startling 530% in the decade ending in 2021. The increase was especially pronounced during the pandemic, with an increase of 38% in one year alone.
Researchers believe these unintentional ingestion cases coincided with school closures, children spending more time at home, and increased sleep disturbances during COVID-19.
In addition, melatonin sales increased by about 150% between 2016 and 2020. Researchers say that widespread use has likely upped the exposure risk among kids at home.
The CDC report is no surprise to Richard Weisman, Pharm.D., a nationally renowned toxicologist with the University of Miami Health System. As of this writing, he says the three poison control centers in Florida are receiving 53 calls of accidental melatonin ingestions a week. Before 2020, that number was 40 calls.
"It's incredibly prevalent, but reports of serious toxicity are still rare," says Dr. Weisman, director of the Florida Poison Information Center.
"The good news is that it hasn't caused a lot of problems."
In most cases, an overdose of melatonin results in nothing more than excessive sleepiness. Dr. Weisman adds, "this is a very low level for a normal, healthy kid."
In the study, about 83% of the pediatric cases were asymptomatic.
And among those who reported symptoms, these included gastrointestinal, cardiovascular, or central nervous system complaints. Among those who received treatment in a health care facility, about 72% were discharged after observation.
However, in some cases, the result was hospitalization and death, mainly in children under 5 years old. Of those treated outside the home, 15% were hospitalized, and 1% involved intensive care. Five children required mechanical ventilation, and two died. The two deaths occurred in children under 2 years old.
The study, published in the CDC's Morbidity and Mortality Weekly Report, also found that 99% of unintentional ingestions occurred in the home, with 88% treated on site.
Melatonin is considered a dietary supplement and requires no prescription.
It is not regulated as a drug by the Food and Drug Administration and is readily available in stores over the counter. It's often sold as colorful tablets or gummies.
"They can look like candy to a 3-year-old," Dr. Weisman says. "If they get a hold of it, they're going to eat as many as they can."
The CDC report, he adds, underscores the importance of taking precautions with all medicines, not just prescriptions. "The idea is to prevent any accidental ingestion from happening in the first place," Dr. Weisman points out.
Here are Dr. Weisman's suggestions:
Store all medications, including vitamins and dietary supplements, in an out-of-way location, preferably locked if children or grandchildren are around.
Look for child-resistant containers. While melatonin bottles are not required to be child-proof by the FDA, Dr. Weisman estimates that about 30% offer the safety feature. They are worth the extra cost.
Keep the poison control center's hotline number readily available. It's 800-222-1222. Staffed by nurses, physicians, and pharmacists, the hotline can help you sort through the necessary steps after ingestion. Call them immediately if you suspect poisoning. Don't wait for symptoms to develop.
---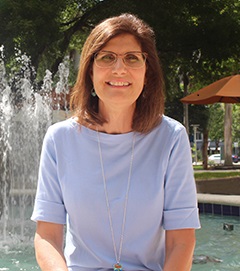 Ana Veciana-Suarez, Guest Columnist
Ana is a regular contributor to the University of Miami Health System. She is a renowned journalist and author, who has worked at The Miami Herald, The Miami News, and The Palm Beach Post. Visit her website at anavecianasuarez.com or follow @AnaVeciana on Twitter.
Tags: artificial flavors, fall asleep faster, Richard Weisman, sleep supplements
Continue Reading