Can a Drug Cocktail Prevent COVID-19?
The lab-made antibody cocktail that President Donald Trump received when he had COVID-19 is entering clinical trials at the University of Miami Miller School of Medicine.
The UM trial, however, focuses on prevention instead of treatment.
As part of a nationwide exploration into how Regeneron might combat the novel coronavirus, the trial seeks to prevent the spread of infection in households after one member tests positive. The clinical trial comes at a particularly important time in the resurgence of the virus. The Centers for Disease Control and Prevention has blamed small house gatherings for the recent spike in cases and hospitalizations.
"The Regeneron trials were initially started for treatment, and there has been good data that it played a role in decreasing symptoms as well as the amount of virus," says Gary Kleiner, M.D., Ph.D., an allergist and immunologist at the University of Miami Health System. "While those are continuing, the idea is to find out if these antibodies can be effective as a prevention method if given within 96 hours of a person being exposed to a COVID-positive household member."
Dr. Kleiner has teamed up with Drs. Lillian Abbo, infectious disease expert, and Bhavarth Skukla, medical director of infection control and employee health at UHealth.
Dr. Kleiner became interested in the two-antibody drug cocktail while researching potential therapies for his patients, most of whom have primary immune deficiency disorders.
(They are unable to mount an immune reaction to the virus.) Coincidentally Regeneron Pharmaceuticals Inc. was also looking for partners to test its drug in real-world settings.
If proven to be an effective preventive measure, this treatment could be groundbreaking, serving as a bridge until a vaccine is approved. It might also turn out to be a substitute for those who are immunocompromised and cannot be inoculated with a future vaccine.
"We don't have a vaccine yet," Dr. Kleiner says, "but the best treatment [for COVID-19] is to prevent getting it in the first place." The cocktail may be useful in doing precisely that. And if a participant does test positive, the man-made antibody may make symptoms less severe.
While the push for a vaccine has received a lot of attention, Dr. Kleiner points out that treatments have received less recognition. Yet they may help tremendously in controlling the pandemic. "It's going to take a combination of therapies, not just one," he adds. "But as a clinician-scientist, it's nice that we're all working towards a common goal."
What are monoclonal antibodies?
REGN-COV2, the drug President Trump received and the one Dr. Kleiner will be testing, is made up of two monoclonal (lab-engineered) antibodies. They are proteins that behave in the same way our antibodies function when fighting an infection. Regeneron scientists created them after evaluating thousands of antibodies produced by people who had recovered from COVID. REGN10933 and REGN10987 attach themselves to different sections of the SARS-CoV-2 spike proteins that help the coronavirus enter human cells and replicate itself. Scientists believe these antibodies prevent the virus from reproducing.
The theory behind monoclonal antibodies, Dr. Kleiner explains, is not unlike convalescent plasma, which also uses outside antibodies to boost a person's immune response. The difference is that convalescent plasma, given through infusion, contains many antibodies. Monoclonal antibodies, on the other hand, are more targeted.
"It's more like a drug because it's specific to the virus," he adds.
Initial results of clinical studies involving REGN-COV2 have been encouraging. Trials showed that the more viral load a patient had, the better the drug worked. Also, patients with fewer natural antibodies at the time of getting the drug also saw a higher viral load reduction than those with existing antibodies. However, as Kleiner points out, the study is small and the drug new.
It is so new that the U.S. Food and Drug Administration has not approved it yet for hospitalized COVID-19 patients, though the drug manufacturer has applied for emergency use authorization. The president received the drug under an individual "compassionate use" request.
Nevertheless, the science of lab-made antibodies has been around for at least 25 years, and physician-scientists like Dr. Kleiner have found good use for them in various situations. Monoclonal antibodies have been used to treat rheumatoid arthritis, multiple sclerosis, Crohn's disease, psoriasis, and some forms of cancer. In early October, the FDA approved the first-ever therapy for the Ebola virus, a three-antibody cocktail made by Regeneron.
The UM trial is a double-blind study, which means neither the study participants nor Dr. Kleiner and his team will know who is being injected with the actual drug cocktail or a placebo. Study participants will be monitored for seven months. He expects to enroll about 100 participants who are asymptomatic but have been exposed to a household member with COVID-19 within 96 hours. Kleiner's team will be part of an international study that plans to enroll 2,000 participants in total.
For more information on the study or if a member of your household has just tested positive for COVID-19, call (305) 243-5684.
---
Ana Veciana-Suarez, Guest Columnist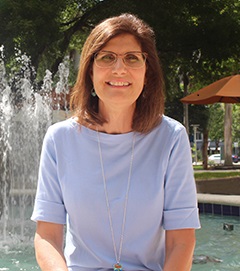 Ana is a regular contributor to the University of Miami Health System. She is a renowned journalist and author who has worked at The Miami Herald, The Miami News, and The Palm Beach Post. Visit her website at anavecianasuarez.com or follow @AnaVeciana on Twitter.
---
Tags: COVID-19, Dr. Gary Kleiner, regeneron
Continue Reading