Is This the New Fountain of Youth?
4 min read
|
February 12, 2020
|
You want to make your face look younger but don't want to undergo surgery. Or you'd like to get rid of some annoying acne scars leftover from your younger years. Maybe you're suffering from unwanted hair loss.
A cosmetic treatment that's been around since the 1990s and has recently increased in popularity promises to address some of these telltale signs of aging. Called microneedling, it involves a roller or a pen with fine needles that prick the skin or scalp to create microscopic channels.
"We then utilize these to deliver drugs to the skin and scalp," explains Dr. Antonella Tosti, a dermatologist at the University of Miami Health System who has been using this procedure for several years.
She recommends the procedure not only for small wrinkles but also for acne scars, large pores, uneven skin texture, sun damage and hyperpigmentation. In many cases, this procedure can be utilized together with injectable Botox and dermal fillers to improve all aspects of the skin.
"It rejuvenates the skin and also makes it more luminous," she says. "There's a visible improvement to the skin surface" within weeks.
MIcroneedling works the same, whether for the skin or the scalp. Dr. Tosti applies a topical anesthetic to the area to help reduce any pain a patient may feel. Then using a dermapen with needles that can range from 0.5 to 1.5 millimeters long, she creates small channels in the area. These tiny punctures allow for the immediate delivery of medication.
PRP speeds up skin renewal
Microneedling can be used alone, but when accompanied by plasma-rich platelets, known as PRP, the results are more noticeable because these platelets encourage both skin renewal and healing.
Physicians inject small doses of PRP through the needle punctures. This PRP is created from the patient's own blood sample, which is spun in a centrifuge to separate red blood cells, platelets, and plasma from each other. The resulting PRP is comprised of plasma (the liquid in blood) with a high concentration of platelets, which help blood clot.
PRP also contains certain proteins that speed up skin tissue repair by stimulating the production of collagen. The production of collagen, adds Dr. Tosti, smooths out the surface of the skin, making it ideal for the treatment of small scars, open pores, and fine lines. A 2008 study published in a plastic reconstruction surgery journal, for instance, showed that skin treated with four once-a-month microneedling sessions resulted in a 400 percent increase in collagen and elastin.
Also effective for scars
More recent studies also show microneedling is effective for acne scars. Combined with PRP it can improve the appearance of acne scars by up to 62 percent.
Dr. Tosti authored "Dermoscopy of Hair and Scalp Disorders," the first hair and scalp dermoscopy atlas ever published. She also uses microneedling to stimulate hair growth, with three procedures spaced about six weeks apart. Hair follicles strengthen as the needle-caused punctures heal. And as with skin procedures, microneedling can be paired with PRP, or even minoxidil, to stimulate hair follicle growth.
One of the attractions of microneedling, Dr. Tosti adds, is "a quick recovery" with few side effects. Her scalp patients need to take off only the day of the actual procedure. She asks her skin patients to stay at home for two to three days. This is mainly to cut down on the risk of infection.
During that downtime, patients might feel some tenderness in the treatment area. Redness, with the occasional mild bruising, usually lasts less than a week. Oozing and swelling are rarer.
Dr. Tosti does issue a word of warning for those considering the procedure. Microneedling done in spas is not nearly as effective as that done by a trained physician. What's more, it could turn problematic. She cites a case of permanent blindness that resulted from an incorrect procedure. Last year the New Mexico Department of Health found that a now-closed spa in Albuquerque had exposed clients to HIV as well as hepatitis B and C.
"It should be done by a [board-certified] dermatologist," she says. "It's very important to clarify what a physician can do and what an aesthetician may advertise."
---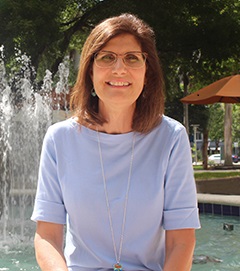 Ana Veciana-Suarez, Guest Contributor
Ana is a regular contributor to the University of Miami Health System. She is a renowned journalist and author, who worked at The Miami Herald, The Miami News and The Palm Beach Post. Visit her website at anavecianasuarez.com or follow @AnaVeciana on Twitter.
---
Tags: acne, Botox, dermatology, Dr. Antonella Tosti, microneedling, PRP, skin care in Miami
Continue Reading