3D Printing for Health Care: Miracle or Hype?
6 min read
|
November 21, 2019
|
Dr. David Tse, an oculoplastic surgeon with Bascom Palmer Eye Institute and the University of Miami Leonard M. Miller School of Medicine, was watching a TV special about the space shuttle when he was transfixed by the idea that a 3D printer on the spacecraft could reproduce a wrench that was scanned by the ground crew back on earth.
He asked himself:
Why not use that concept to create eye-socket prostheses for patients?
More than five years after that aha moment, Dr. Tse and his team have now managed to turn that idea into reality by using a scanner, a spectrometer, and a 3D printer to create a special polymer prosthesis which matches a patient's skin tone. An added bonus: patients don't even have to come to Miami as long as a portable laser scanner and a spectrometer can deliver the data to the 3D printer in Dr. Tse's lab.
Dr. Tse is not the only Miami physician using the promise of 3D printing to change the way healthcare is delivered. In September, Dr. Amiethab Aiyer, an orthopedic surgeon specializing in foot and ankle surgery, and Dr. Stephen Quinnan, a trauma orthopedic surgeon at the University of Miami Health System, teamed up to replace a patient's ankle (talus) bone with a 3D printed version made from cobalt chrome. Though this kind of surgery has been done in Japan and Australia, there have been a limited number of cases in the United States.
"I'm cautiously optimistic that we'll be seeing 3D printing playing a bigger and more important role" in medical care, Dr. Aiyer says.
How does 3D printing work?
Developed in the 1980s, 3D printing takes a digital model of the subject and uses data points and appropriate material — from metals to plastics — to print successive multidimensional layers. In health care, images are often taken from CT scans, MRIs, ultrasounds and even X-rays to produce a digital model.
UHealth physicians across disciplines agree: 3D printing technology has revolutionized everything from medical school teachings to the creation of prostheses and implants, such as hip joints and cranial plates. A 3D printer can create devices tailored to the specific anatomical requirements of a patient. And it can be used to create copies of the same implant or prosthesis, if the need arises.
In Dr. Tse's work, a laser scanner scans a patient's healthy eye.
A spectrometer is then used to measure the skin tone and the color of the iris, to better match the eyeball. With this information, a "mirror" digital model is created for the empty eye socket.
The data points of this composite then instruct the 3D printer to print a prosthetic eyeball and socket from special polymers. Such prostheses are used for cancer patients who have lost an eye to cancer.
For their patient, Drs. Quinnan and Aiyer used computer tomography (CT) scans of the ankle to facilitate the printing of the custom bone, which was completed in North Carolina.
Although ceramic has been used to replace the talus, the company printing the talus used cobalt chrome to provide greater durability to the implant. This is of particular importance given that the ankle is a weight-bearing joint.
In some cases, the 3D printed prostheses can be created relatively quickly and inexpensively. Dr. Tse, for example, uses a regular 3D printer to make his eye socket prosthesis. The printing takes about 23 hours and costs about $500. A commercial 3D printer, however, can be much more efficient, producing six or seven prostheses in the same time.
A strong partnership between engineers and doctors
To come up with the right hardware and software, Dr. Tse worked with University of Miami biomedical engineers Landon Grace and Mauro Fittipaldi. They, along with a team of ophthalmology researchers, benefitted from new equipment at the Nasser Al-Rashid Research Center, where Dr. Tse serves as director.
As for the talus bone replacement, 3D printed implants tend to come in at a higher price because there's not enough volume. However, Quinnan foresees a future in which custom-made 3D printed bone replacements will be standard medical practice. "The cost will then be spread out," he says, adding that the benefits of 3D printing in orthopedics gives surgeons a lot more options.
But 3D printing is not just for custom-made prosthetics.
It's also being used to make surgical tools and create tissues and "organoids." What's more, the technology enables the printing of surgical models that serve as life-size simulations to train residents in a variety of therapies. In ophthalmology (and other fields), residents can practice surgical techniques on a 3d printed organ, the better to perfect skills before actual surgery.
Proceeding with caution: The future of 3D printing
UHealth doctors are cautious about how 3D printing will be developed and where it might best be employed. They warn patients that there are no overnight miracles. "There's still a lot of work to be done," Aiyer says. "There's still a lot we don't know. What's the survivorship? What's the longevity of these implants?"
And while 3D printing has ushered a flurry of innovation in implants, medical fixtures, and surgical tools, creating artificial living tissue in a laboratory has proved more challenging. Labs have already created "organoids" for medical research. They are experimenting with alternatives to human organ transplants but that's still a long way off. "We're seeing the infancy of what is possible," Quinnan explains. "As for tissue engineering and printing organs that's more pie in the sky for now."
Cost is also an issue. Commercial 3D printers are expensive. The volume has to justify the costs of purchase for a hospital or medical lab. Dr. Tse's commercial printer costs $850,000. A grateful patient, with the doctor's blessing, has launched the Save The Eye fundraising campaign to purchase one for the Bascom Palmer team. (To donate, click here. Choose "Other" under "Designation" and type in "Save The Eye/Account 700523.)
In addition, Dr. Tse is working towards a future where eye specialists around the world can use portable scanners to scan a patient's digital facial data and that send that information to his team's printer. The resulting prosthesis could be shipped back — in essence broadening accessibility and transforming the field of ocular plastic surgery.
"I think of 3D printing now as a 1G system was for cell phones," Tse says. "We want to be at a 5G and that's what we're working towards."
---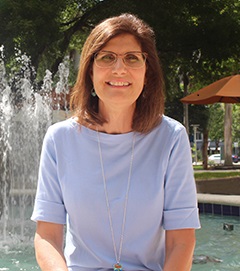 Ana Veciana Suarez,
Columnist
Ana is a regular contributor to the University of Miami Health System. She is a renowned journalist and author who has worked at The Miami Herald, The Miami News, and The Palm Beach Post. Visit her website at anavecianasuarez.com or follow @AnaVeciana on Twitter.
Tags: 3D printing, Bascom Palmer Eye Institute, Dr. Amiethab Aiyer, Dr. David Tse, Dr. Stephen Quinnan, eye surgery
Continue Reading