At-Home COVID-19 Test: A Breakthrough or Not?
The U.S. Food and Drug Administration has approved a home COVID-19 test that needs no prescription, no clinic appointment, or waiting in line — but delivers results to the user's phone in under 20 minutes.
Some call it a breakthrough, particularly for places where a surge in coronavirus cases has clogged the testing system or in rural areas where testing sites aren't readily accessible.
The home test kit, developed by the Australian-based Ellume, is expected to cost about $30 and be available to consumers at drugstores and other places in January. The possibility for use by companies, schools, airlines, and employers has many hoping this might be a way of returning to a sense of normalcy while the general population waits to be vaccinated.
Experts, however, are cautious. "I think they're going to be useful," says Bhavarth Shukla, M.D., M.P.H., medical director of infection control at the University of Miami Health System. "But I see it more as a screening test, another tool in the toolbox. We don't want people to erroneously think it's a pass on using masks and social distancing for them."
The Ellume kit is an antigen test.
Antigen tests detect proteins on the virus surface. Since they don't require as many testing reagents and laboratory staffing, antigen screening is cheaper and faster than the gold standard of COVID testing, the RT-PCR. The PCR, or molecular real-time polymerase chain reaction test, is more accurate because it detects the virus' genetic material. The FDA advises RT- PCR tests to be used as a backup when the antigen is negative, but COVID symptoms are present. Likewise, people who test positive but are asymptomatic should presume they're positive – and contagious — until another test can confirm results, the FDA has said.
Like other antigen tests, the Ellume at-home kit can come back negative simply because the test-taker has done the test too soon. It can also return a false positive because it detects proteins that appear like SARS-CoV-2 but aren't. Such results can give a person false reassurances.
"We've seen this plenty of times, even with access to professional testing," Dr. Shukla adds. "They use it as a waiver for mask use and social distancing. They have a false sense of security."
That said, antigen tests are helpful when speed and accessibility are essential. If used correctly and with an awareness of potential false negatives, "doing something at home can only help," says Dr. Shukla. "At the very least, it's one less person coming in or congregating in a place."
What's more, the Ellume kit has proved relatively accurate.
It identified 96% of positive samples and 100% of negative samples in individuals with symptoms. According to the FDA, in people without symptoms, the test identified 91% of positive samples and 96% of negative samples.
FDA Commissioner Stephen M. Hahn, M.D., said in a news release that its accessibility and speed was "a major milestone in diagnostic testing for COVID-19."
Currently, the overwhelming majority of COVID testing is done in a medical setting and usually requires a prescription. One at-home test already on the market, from Lucira Health Inc., is only authorized for prescription use by a healthcare provider, not for individual sale. Another at-home test, by Laboratory Corp of America Holdings, recently got clearance from the FDA. It doesn't require a medical prescription but must undergo lab processing, which can take hours if not days.
Manufacturer Ellume has said it will ship out 100,000 kits a day in the new year and expects to make a million tests a day by mid-2021. The kit includes a dropper, a sterile nasal swab, processing fluid, and a Bluetooth-connected analyzer that connects with a user's smartphone. In a public statement, the company said that individual real-time results, delivered to a phone app through a secure cloud connection, could help health authorities map outbreaks.
Dr. Shukla is encouraged by the new testing technology but also issues a warning: "It's not an excuse to stop prevention. You still have to mask up, social distance, and wash your hands."
---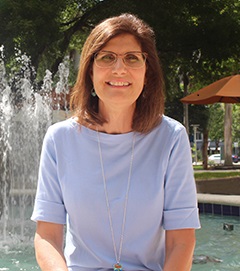 Ana Veciana-Suarez, Guest Columnist
Ana is a regular contributor to the University of Miami Health System. She is a renowned journalist and author who has worked at The Miami Herald, The Miami News, and The Palm Beach Post. Visit her website at anavecianasuarez.com or follow @AnaVeciana on Twitter.
Continue Reading