Helping Firefighters Lower their Cancer Risk
Trained to face danger, firefighters battle blazes and save lives regularly. But that bravery comes at a steep price. These first responders experience a higher risk of cancer diagnoses and cancer-related deaths than the general population, a likely result of encountering unseen carcinogens in the smoke and flames they fight.
In response to this situation, the Firefighter Cancer Initiative (FCI) at the Sylvester Comprehensive Cancer Center seeks to provide them with the resources to reduce this risk. FCI works closely with the state's fire marshal and the firefighters themselves. Many of them have acted as citizen scientists to gather valuable information about their work habits and resulting symptoms.
"The impetus [for FCI] was the concern of a growing or perceived growing risk of firefighters developing and dying of cancer," explains Erin Kobetz, Ph.D., M.P.H., Sylvester's associate director for Population Sciences and Cancer Disparity. "We wanted to substantiate the anecdotes that were coming to us from the firefighters themselves about early-onset cancers in young people with no known risk factors."
Founded in 2015 by Dr. Kobetz and a multi-disciplinary team, the FCI has gathered data about cancer risk factors, organized symposiums, developed education videos, established a free online application to help firefighters record personal on-the-job exposures, and launched a mobile clinic.
The result? Advancements in research and science-based policy changes help these men and women assess their risk and receive the appropriate workers' compensation when they get sick.
There's ample literature supporting the health dangers firefighters face.
Two National Institute for Occupational Safety and Health studies revealed that U.S. firefighters face a 9% increase in cancer diagnoses and a 14% increase in cancer-related deaths. Other research provides more alarming statistics: 61% of firefighter deaths from 2002 to 2017 were due to cancer. And cancer caused 70% of the line-of-duty deaths for career firefighters in 2016.
One of the "seminal studies" on firefighters' cancer risk was co-authored by David Lee, Ph.D., chair of the Department of Public Health Sciences with the University of Miami Health System. During his more than 30-year career, Dr. Lee has researched the heart and cancer risks faced by firefighters. He is also the project director and principal investigator for the Florida Cancer Data System, a statewide cancer registry collecting incidence data since 1981.
The past 10 to 15 years have seen the publication of "foundational" studies that back up the observations of firefighters about the early onset cancers among their colleagues, Dr. Lee says. One of those studies, done in conjunction with Dr. Kobetz, Alberto Caban-Martinez, M.D., of UHealth, and others, examined the cancer risk in more than 100,000 career Florida firefighters over a 34-year period, including more than 5,000 women.
By cross-referencing employment records and the Florida Cancer Data System, researchers found alarming but not completely surprising links.
Male firefighters were at increased risk of melanoma, prostate, testicular, thyroid, and late-stage colon cancers. Female firefighters showed a "significantly elevated" risk of brain and thyroid cancers and an elevated risk of melanoma.
Such findings have led to real-life changes in firefighters' behavior and the design of both their rescue vehicles and firehouses.
"Some of these cancers can be prevented through regular cancer screenings," explains Alberto J. Caban-Martinez, D.O. Ph.D., M.P.H., C.P.H., deputy director of Sylvester's FCI and assistant professor of public health sciences. "Our results have shown that firefighters are at an increased risk for basal and squamous cell cancers, which motivates the importance of an annual skin exam, head to toe with a dermatologist. It also provides credence for decontamination procedures at the fire scene and the fire station."
Firefighters now understand the importance of decontaminating their gear at the scene. A "clean cab" compartment has been added to the fire truck for contaminated items. And at the firehouse, trucks (and their diesel exhaust) have been moved away from ice machines and other vulnerable living areas.
"We won't be able to eliminate all carcinogens," Dr. Lee admits.
Firefighting will always be a job with a certain amount of risks. But we can reduce those risks by employing decontamination protocols and other strategies.

Dr. Lee
One of the distinguishing features of FCI is its collaborative, community-engaged approach to ensuring that firefighters' voices and occupational experiences are reflected in program planning and implementation.
"It's truly a partnership," Dr. Lee adds. "We draw heavily on the experience of the firefighters themselves. They have been invaluable to the work."
Miami-Dade firefighters, as well as others around Florida, are usually trained as emergency medical technicians and/or as paramedics, which has helped in the reporting of behaviors and symptoms. "This has enabled action-oriented science," Dr. Kobetz says. "It has led to changes on a state level to reduce or at least alleviate the burden of cancer."
What the Firefighter Cancer Initiative has accomplished
Personal Exposure Reporter
Any firefighter can create his or her own Personal Exposure Reporter (PER) account. The free online application allows firefighters to keep a digital record of on-the-job exposures. The data is maintained only by the University of Miami and not shared with a fire department or the state. It's used to analyze cancer risk factors related to firefighting. "FCI's innovative and cutting-edge research projects have informed and catalyzed policy change at the county, state, and national levels," Dr. Lee says.
Educational Videos
About 10 videos have been created to provide step-by-step instructions for proper on-scene decontamination. The videos feature fire agencies across Florida as well as union membership. In addition, FCI has its own FAQ segment to address common concerns in the fire service.
National Firefighter Cancer Symposium
This annual event attracts experts in the field and firefighters "to work together to translate research into action that saves lives," Dr. Kobetz says.
The two-day event, held both online and in-person in February of this year, focused on research and prevention, and survivorship strategies. More than 400 firefighters from throughout South Florida and across the nation took part. Next year's symposium is scheduled to be held at a firefighters' union hall as "a tangible expression of our shared commitment," Dr. Kobetz says.
Firefighters Cancer Survey
The annual survey has created a database of the risks and behaviors through a comprehensive baseline that establishes cancer risk behaviors, cancer screening behaviors, medical and cancer history, occupational history, and environmental exposures. More than 3,200 Florida firefighters have completed the survey.
In addition, through this annual survey, current South Florida firefighters are recruited for a colorectal screening project. If they're not up to date on this kind of screening, they may be referred to a center for colonoscopy.
Florida Firefighter Cancer Registry
With Dr. Lee as principal investigator, the registry was established in 2015 as part of FCI. It links Fire Marshal certification records to Florida Cancer Data System records to identify cancers disproportionally impacting Florida firefighters. This registry has been instrumental in documenting cancer risks in this occupational group.
Mobile Clinic
Since 2021, this 32-foot clinic has taken cancer prevention and early detection to where the firefighters live and work. It will supplement brick-and-mortar clinics located in downtown Miami, Coral Gables, and Plantation.
Sylvester scientists say their work with firefighters will continue. "We will not stop until we extinguish cancer from the fire service," Dr. Caban-Martinez says.
"First responders are running into a blaze while we and the community are running out, in the opposite direction. The least we can do is use our scientific and clinical skills to reduce the cancer burden in the fire service."
---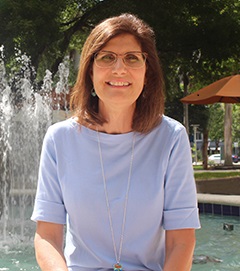 Ana Veciana-Suarez, Guest Columnist
Ana is a regular contributor to the University of Miami Health System. She is a renowned journalist and author who has worked at The Miami Herald, The Miami News, and The Palm Beach Post. Visit her website at anavecianasuarez.com or follow @AnaVeciana on Twitter.
Tags: cancer prevention, Dr. Alberto Caban Martinez, Dr. Erin Kobetz, firefighting and cancer risk
Continue Reading