Multiple Sclerosis Research Offers Hope
Multiple sclerosis (MS) can upend the lives of those diagnosed with the chronic autoimmune disease, but recent advances in care also offer hope.
"When someone is diagnosed, it's a very difficult time in their lives," says Flavia Nelson, M.D., chief of the Multiple Sclerosis and Central Nervous System Autoimmune Disorder Division at the University of Miami Health System. "But when I meet with them, I share how we can move forward together. The message is one of hope. I tell them, 'My goal is for you to be in remission from now on.'"
It is a message that is greatly needed by the nearly one million people living with MS in the United States.
The disease is potentially disabling because the brain and spinal cord are affected when the body's immune system attacks the myelin, or the cover, that protects nerve fibers. When this happens, the communication between the brain and other parts of the body can suffer.
Diagnosing the disease is further complicated because there is no single test for it.
Symptoms vary widely, depending on which area of the brain or spinal cord is affected. For example, one patient may not be able to walk, while another may experience double vision and difficulty swallowing. Patients also might report varying degrees of vision problems, tremors, unsteady gait or lack of gait, slurred speech, fatigue, as well as dizziness or tingling and numbness in different parts of the body.
MS may also go through periods of remission without showing any signs or symptoms.
Moreover, women are three times more likely than men to develop MS, and many are typically diagnosed in their 30s.
"It can be heartbreaking," Dr. Nelson explains of a diagnosis in the prime childbearing years.
However, the past few years have seen renewed interest in MS, both by the general public and the medical community.
Most recently, actress Christina Applegate spoke openly about the early physical symptoms that she had ignored. She also tweeted a photo of the canes she now uses to walk.
In the former First Lady's new memoir, "The Light We Carry," Michelle Obama explores how her father's MS changed him and her family when she was growing up.
The stories of these two women's experiences show how difficult it can be to diagnose MS. Because no one test can determine if a patient has the disease, a clinician must rule out other causes, says Dr. Nelson. To do this, a patient undergoes a neurologic exam, as well as brain and spinal cord MRIs, spinal fluid analysis, and blood tests.
The good news? Over the years, detailed revisions of the medical criteria to diagnose the disease have led to earlier diagnoses, an important step in treatment.
Since much of the body's misguided immune system attack on myelin occurs in the beginning stages of the disease, physicians prefer aggressive treatment as early as possible. Early treatment can lessen the relapse rate and reduce the risk of disability, too.
"We no longer accept an inevitable progression of the disability," Dr. Nelson says. "Our goal is to maintain the patient at a functional level."
To aid experts' treatment of MS, the formulary of drug treatment also has increased from about five drugs to more than 20, she adds.
Dr. Nelson is the director of UHealth's Multiple Sclerosis Center of Excellence, where a multi-disciplinary team of experts provides comprehensive, state-of-the-art care.
"It's not just neurologists specializing in MS but also other experts who treat the patient here," including speech, physical and occupational therapists as well as social workers, urologists, and specialized nurses.
"We also have access to a state-of-the-art neuro-ophthalmology center at Bascom Palmer, an infusion center with expertise on the newest intravenous drugs and specialized imaging protocols specific to detect MS progression," she adds.
The center is a leader in MS clinical research. Its physician-scientists are currently running about 15 clinical trials and are trailblazers in specialized areas.
For example, Kottil W. Rammohan, M.D., a professor of neurology, investigates how MS develops and how it can be best treated, focusing on novel techniques for examining abnormalities in the cerebrospinal fluid in MS. He also studies how current modifying therapies work on patients.
Another lead researcher, Silvia R. Delgado, M.D., associate professor of clinical neurology, specializes in identifying genetic factors contributing to increased susceptibility for MS in Hispanics. She does ongoing research in potential retinal imaging biomarkers for tracking MS progression, too.
Most recently, Dr. Delgado and colleague Leticia Tornes, M.D., associate professor of clinical neurology, were part of a groundbreaking collaborative study that found an astonishing 35% of MS patients had a high level of pruritus (chronic itch) in the extremities, face, and scalp. The researchers speculate this may be the result of changes in brain tissue. (The lead author was another UHealth physician, Gil Yosipovitch, M.D., professor, Stiefel Chair in Medical Dermatology, and director of the Miami Itch Center at the Dr. Phillip Frost Department of Dermatology and Cutaneous Surgery.)
"The goal is to have a center where patients receive the care they need on all levels, including emotional support, information on nutrition, vitamin supplementation, exercise, and alternative medicine, such as acupuncture, among others," Dr. Nelson says.
"Those needs can vary among patients, but they always know that they have a team on their side. MS can be difficult to manage, so it's good to have an expert in your corner."
---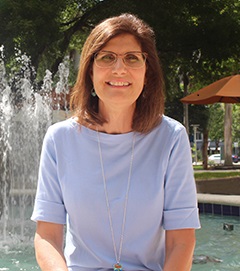 Ana Veciana-Suarez is a regular contributor to the University of Miami Health System. She is a renowned journalist and author who has worked at The Miami Herald, The Miami News, and The Palm Beach Post. Visit her website at anavecianasuarez.com or follow @AnaVeciana on Twitter.
Tags: Dr. Flavia Nelson, immune system, movement disorders, MS research, multiple sclerosis (MS)
Continue Reading