When Adulthood Hits: College Kids Feel the Pressure
6 min read
|
May 14, 2018
|
College is often an idyllic period suspended between freedom and responsibility, dependence and independence, adolescence and adulthood. But for some students, that experience is quite different.
A growing number of them are seeking help for debilitating depression and anxiety — so much so that campus mental health counselors are scrambling to offer screenings and in-house help.
A Center for Collegiate Mental Health Program revealed that the number of students visiting campus counseling centers between 2009 and 2015 increased by about 30 percent on average, at a time when enrollment ticked up by less than six percent. The increase appeared to be due mainly to students who had attempted suicide or engaged in self-harm.
"We certainly have noticed an increase," says Marisa Echenique-Lopez, PsyD, a clinical psychiatry expert at the University of Miami Health System and coordinator of UM's Interactive Screening Program (ISP), an online depression and anxiety screening program to prevent suicides. "It's important to differentiate whether the increase is due to more students actually suffering from depression or students are starting to feel more comfortable voicing their distress thru services such as the ISP."
Even more troubling than those figures is another reality:
About two-thirds of students who experience depression or other mental health issues don't ask for help.
The University of Miami Miller School of Medicine has implemented the Interactive Screening Program, an anonymous web-based tool where medical students participate in a brief questionnaire. Their answers are then confidentially sent to a licensed mental health professional at the medical school and assessed for symptoms of depression and potential risks of suicide. ISP was developed by the American Foundation for Suicide Prevention to prevent suicides. The program links at-risk students to treatment, but Dr. Echenique says that the stigma of mental illness is still "a major barrier" for people seeking treatment. (The department plans to make the ISP available to staff and faculty on the medical school campus, and then adapt it to all other UM campuses.)
Screenings have revealed that "many have significant risk factors and some have expressed suicidal thoughts," says Dr. Echenique. Such risk factors include feelings of loneliness and hopelessness and thoughts of self-harm.
These findings are consistent with national reports by the American College Health Association, an advocacy organization for colleges and universities that provides and supports the delivery of healthcare and prevention and wellness services for the nation's 20 million college students. In its spring 2017 National College Health Assessment, almost 51 percent of students reported feelings of hopelessness within the past year, 62 percent reported feeling lonely, 60 percent had felt overwhelming anxiety at some time, and another 62 percent had felt very sad.
The stress of living life online and comparing your life to others
In fact, only depression and anxiety demonstrated a clear growth trend over the past four years in the report. And while certain percentages that track mental health appear small — 1.5 percent of students surveyed in the report had attempted suicide in the last 12 months and 7 percent had intentionally cut, burned, bruised or otherwise injured themselves — Dr. Echenique notes that suicide is the second-leading cause of death for Americans teens and college-aged students.
The reasons for mental health problems in college are many, she adds. Some mental health issues may predate college, but others crop up on campus, at a time when students are most vulnerable and far from their support system. Newfound freedom and opportunities for personal growth, though highly attractive, can be overwhelming as students struggle with both academic expectations and sudden responsibility. In the NCHA report, for instance, 87 percent of the students surveyed felt overwhelmed by all they had to do and 84 percent felt exhausted but not from physical activity.
"The students we get at UM are often academic standouts in high school," she says. "But then they come here and everybody is great academically too and suddenly they realize, "I'm not so great anymore.'"
In addition, she has noticed that students increasingly worry about finances, both about their parents' ability to help them financially and about the debt they're incurring. (Outstanding student debt has ballooned to an all-time high of $1.4 trillion and the average outstanding balance of $34,144 is up 62 percent over the last 10 years, according to various reports.) Social media also has worsened the human habit of comparison.
"Their social scene has grown enormously [with social media]," she says. "On Instagram, they see how another student is doing and they compare their experiences. For this age group in particular, that can be very harmful."
Parents can help create a smooth transition from home to dorm:
Help your college student learn to manage stress by making them aware of college-related stressors. Emphasize that the student should get enough sleep, eat right, exercise regularly, plan for the inevitable crunch of exams, and continue to pursue their passions. Emphasize that overloading the schedule with too many tough courses or extracurricular activities can prove more damaging than beneficial.
Keep the lines of communication open. Speak often — and listen, listen, listen. The student may not express their feelings outright, but a parent can notice changes in mood and behavior. "There are so many more ways to staying in touch now that it's easier than it used to be," Dr. Echenique says. "Use what's available and what the student feels comfortable with."
Don't ignore the risk factors, including loneliness, isolation, exhaustion, feelings of hopelessness, sadness and helplessness. "Even if they don't lead to something more serious and severe, if they're impacting in a negative way, it's still a problem," says Dr. Echenique.
Meet and stay in touch with roommates and college friends. While a student may cringe at the thought of meddling parents, the reality is that peers are an important resource because they're often the first ones to note a change in behavior.
Keep the college's parent hotline and/or counseling center phone handy in case of an emergency. "Knowing the resources available [on campus] can be very helpful when you're far away," Echenique says.
---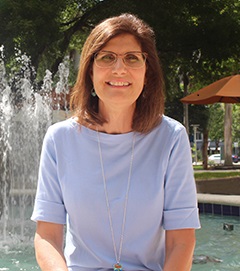 Ana Veciana-Suarez, Guest Contributor
Ana is a regular contributor to the University of Miami Health System. She is a renowned journalist and author, who has worked at The Miami Herald, The Miami News and The Palm Beach Post. Visit her website at anavecianasuarez.com or follow @AnaVeciana on Twitter.
---
Tags: anxiety, clinical psychiatry, college students, depression, Dr. Marisa Echenique-Lopez, Interactive Screening Program, mental health
Continue Reading