Celebrate Self-Love this Valentine's Day
4 min read
|
February 07, 2020
|
If December is equated with the merry trappings of Christmas, February is surely the month devoted to romantic love — and no date is more emblematic of that celebration than February 14. On Valentine's Day, it feels as if everyone is in love.
But what if you're single? If you're coming off a breakup? How do you react when everyone in the office – except you — coos over roses or savors a heart-shaped box of chocolates?
Valentine's Day, admits Dr. Sonjia Kenya, a certified sexologist and associate professor with the University of Miami Health System, can be tough on singletons.
"The perception that everybody is coupled off can send you into depression," she says. "And that certainly isn't going to get you anywhere."
But it doesn't have to be that way. Instead of wallowing in what you don't have, she suggests you redirect your focus in a more positive way.
"February is all about love," she says. "But who says that love has to be aimed at another person? Why not dedicate the month to loving yourself?"
Let's Talk about Self-Love
If you're cradling your bruised heart and scratching your head, consider her reasoning: "Nobody loves you as you love yourself. Celebrate that."
Dr. Kenya, who has made it her mission to teach singles and couples how to improve their love lives, has a plan. First, conduct a self-assessment.
Ask these questions:
What is something you've wanted to do for a long time, but haven't done?
What activities make you happy, and could you spend more time doing them?
What areas of your life would you like to improve?
Armed with honest answers, draw up a plan to make the month one of loving self-improvement.
"Make February the month of you," she says. "Do the kinds of things you've always wanted to do to achieve your personal goals. There's nothing more attractive than a person intent on achievement. When someone is working towards a goal, it's like they have sparked a fire that glows from within."
Self-Love Tips and Tricks:
Enroll in a class. Learn a language. Try Salsa. Take up a new skill.
"I love adult learning," Dr. Kenya explains. "You're learning something, but you're also making sure you have don't have the space to go down the rabbit hole of memories and what you don't have." Bonus: you might even meet someone interesting if that's what you want.
Read a self-help book.
It doesn't matter if it's about improving your career, your love life, or your finances. Dr. Kenya believes that a reader open to advice can find motivation from these tomes. She also suggests audiobooks because you can listen while doing everyday activities like driving to work, exercising, and cleaning the house. Normally your mind wanders during these times, but a positive audiobook helps the mind wander in a healthier direction.
Go out with your friends. Send flowers to your best bud — or yourself.
Pen Valentine notes to your colleagues. "Valentine's Day isn't just about romantic love," she points out. "It's about love in general." Dr. Kenya, for example, has sent cards to her co-workers on Valentine's Day as a show of appreciation, and her mother still sends her a Valentine box.
Buy a sex toy and learn to use it.
Physiological pleasure will give you a natural high, and "it will help you communicate desires better in your next relationship," she says.
Don't reach out to your ex.
You may be tempted to travel back in time to remember the past, but that rarely works. In fact, it may make you feel worse. "Save the phone call to your ex for something important," she says. "You get one shot at that, so save it for when you really need it."
Exercise.
When you hit the treadmill, your body releases endorphins, which, in turn, trigger positive feelings. Everyone feels a little high after exercise.
In the end, remember that confidence is a powerful aphrodisiac.
Cultivate it. Practice it.
"If you're sad and depressed and down," Dr. Kenya adds, "you're not going to be at your happiest or most attractive state. So put a schedule together that keeps your mind and your time filled with purposeful positivity. Self-love is true love."
---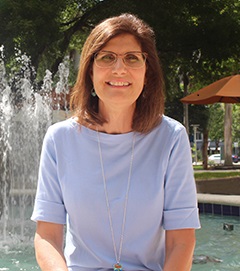 Ana Veciana-Suarez, Columnist 
Ana is a regular contributor to the University of Miami Health System. She is a renowned journalist and author, who has worked at The Miami Herald, The Miami News, and The Palm Beach Post. Visit her website at anavecianasuarez.com or follow @AnaVeciana on Twitter.
---
Tags: mental health in Miami, Self-care
Continue Reading