Just Sing It: Choir Group Has Unexpected Health Benefits
5 min read
|
June 29, 2023
|
While Joyce Pole was recovering from treatment for multiple myeloma, she wanted to find a special project to help her deal with her new situation. The retired health care manager found that opportunity when her music therapist suggested she join a choir. 
Not just any choir, however. One composed of people who have experienced cancer.
So, in the summer of 2017, she went to her first practice of the Sylvester Singers Survivorship Choir, directed by Mary Adelyn Kauffman, DMA, MT-BC, NMT, and music therapist at Sylvester Comprehensive Cancer Center. The decision proved life-changing.
"It's brought me so much satisfaction," says Pole, 70, of North Miami. "Sometimes my thoughts go round and round with worry about the future, but when I'm singing I live in the moment. Everything else is on the back burner."
That's precisely what Dr. Kauffman intended when she started the choir. A choral conductor before she returned to college to pursue an advanced degree in music therapy, Dr. Kauffman was well aware of the power of music and created the survivorship choir during her graduate internship in 2017.
"Singing," she says, "changes people's moods. I've seen how happy they get and how their mood changes. Music uplifts. It provides joy for both the singer and the audience."
This is particularly important during the long road that is cancer recovery and survival. Or as another choir member, Nancy Lou Capizzi-DeMeo, puts it, "This is the kind of thing you don't know you need until you do it. It takes you somewhere outside yourself."
There are several well-researched benefits to group singing, and choirs are not uncommon in health care settings.
Dr. Kauffman knows of other choirs composed of Parkinson's patients and of individuals with dementia.
"We know that being part of a [singing] group has a stronger effect on anxiety than singing alone," she adds. "There's a sense of community, of sharing an experience with others."
Research has shown that group singing helps synchronize members' breathing and heart rates. A beloved song can trigger memories of happy times, too. 
"Even during the pandemic, when practicing on Zoom was technically challenging, I could really see how people's faces changed."
The Sylvester choir is made up of more than survivors. 
Some singers are still in treatment. Others are caregivers who decide to join because they like to sing and because it's a fun activity to do with their loved ones, separate from what may feel like endless rounds of clinic visits.
Membership tends to change every few months, though there is a core group of about six or seven singers who have participated for years.
 You don't need to know music or have formal training to join. In fact, Dr. Kauffman believes that "pitch can be learned. It can be taught. The question really is, Do you want to sing?"
 The choir's repertoire is varied, but all songs have a common thread: The music must be uplifting but not in a religious or liturgical way. Among the group's favorites are "I Can See Clearly Now," originally sung by Johnny Nash, and "Don't Stop Thinking About Tomorrow" by Fleetwood Mac. The choir has also performed some songs in Spanish, including "Color Esperanza" (Color of Hope) by Diego Torres.
Currently, the choir is composed of all women, but men have comprised as much as one-third of the group at other times. Their ages range from the early 40s to the well-seasoned 80s, with a demographic mix representing multicultural South Florida. 
One longtime member is Capizzi-DeMeo, 75, who received treatment for triple-negative breast cancer several years ago. Though she lives on Long Island, she spends winters in North Miami Beach, where she grew up and where her sister still lives. During one of her stays, she found out about the choir. 
I so needed this. I feel very fortunate to have found this group. Mary makes everyone feel good. She's the glue that keeps us together.

Nancy Lou Capizzi-DeMeo
Capizzi-DeMeo now participates in the weekly hybrid rehearsals – both in person and via Zoom — and flies down for live performances. Though the choir sings primarily for Sylvester patients, it has also performed at a Florida Panthers hockey game, a University of Miami women's basketball game and holiday shows in the Sylvester and Lennar Center lobby. 
Dr. Kauffman wants to expand the choir's performances to Broward County and hopes to recruit more Sylvester patients from that area.
 The benefits of joining the choir go beyond singing. 
Members become friends. "You form a fellowship with different folks because you're having fun together," Pole says. "It has changed my outlook. I'm calmer. I'm a little more relaxed, and I feel more refreshed."
Capizzi-DeMeo has begun writing poetry. She's ventured into vertical hydroponic gardening as well. And she's been known "to belt out a tune without feeling intimidated. I now have more confidence," she says.
That is sweet music to Dr. Kauffman's ears, pun intended.
"I hope they take away a sense of achievement," she adds. "I want them to think, 'I did something I didn't think I could do. I sang a song, and it made other people happy.' The confidence that comes from that is important. It builds resiliency."
Dr. Kauffman is recruiting members for her Sylvester choir, including Spanish speakers. She can be reached by email at [email protected] for more information.
---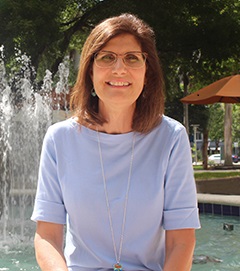 Ana Veciana-Suarez is a regular contributor to the University of Miami Health System. She is a renowned journalist and author who has worked at The Miami Herald, The Miami News, and The Palm Beach Post. Visit her website at anavecianasuarez.com or follow @AnaVeciana on Twitter.
Tags: cancer care in Miami, group singing, Mary Adelyn Kauffman, music therapy, stress relief, Sylvester choir
Continue Reading