Coronavirus and the Elderly: How to Stay Safe and Sane
COVID-19, the novel coronavirus that has shut down social get-togethers and family gatherings, has been particularly cruel to older adults. Not only are seniors at higher risk of dying from the disease, but isolation from loved ones, especially grandchildren, can be taxing, even traumatic for those who live alone.
"The biggest take-home from the data we're receiving is that the elderly population doesn't respond as well as younger patients and that their risks are exponentially higher with this virus," explains Dr. Marcio R. Soares, a geriatrician with the University of Miami Health System. "We also know that social isolation, even when it's needed as it is now, can affect our physical and mental well-being."
In other words, the advice prescribed by doctors for the virus, however essential, has its own side effects.
An early analysis by the Centers for Disease Control and Prevention of the first U.S. cases revealed that the fatality rate was highest for people 85 or older, at 10 to 27%. (The overall death rate is 2.3%.) Those between the ages of 65 to 84 fared slightly better, with a death rate of 4 to 11%. Older adults also required hospitalization at higher rates than their younger counterparts: 31 to 70% for those 85 years and older and 31 to 59% for adults between 65 and 84. Once hospitalized, they also landed in the intensive care unit much more frequently.
The reasons for this are many. Older adults tend to suffer from more chronic conditions, including those — diabetes, cardiovascular disease, respiratory ailments — that complicate the body's response to COVID-19. What's more, as we age, "our immune capabilities slow down and deteriorate," Dr. Soares adds. "We don't respond as well to illness, and we don't bounce back as quickly."
But Dr. Soares offers hope for the 65-and-over set. Here are his suggestions to safeguard your health — and your sanity:
Stay home. "Being alone can drive anyone crazy, but it's the best solution right now," Dr. Soares says.
Follow the CDC recommendations. Wash your hands, sterilize what you touch, and if you feel any symptoms, call your doctor.
Set up a new routine. Being flexible and adapting to unexpected circumstances are essential skills, now more than ever. All of us — from schoolchildren to office workers — have been thrust into "a new normal." Embrace the change.
Stock up on a 3-month supply of your prescriptions. Ask for delivery.
Use senior-only hours at grocery and pharmacy stores. "If you have a neighbor or a family member who can do the shopping for you, that's even better," Dr. Soares says.
Welcome technology as a social lifeline. "We're fortunate to live in a time that we have many tools to stay connected," Dr. Soares adds. "Phone your loved ones. Facetime, Skype. Use what's available."
Exercise. Take a walk around the neighborhood while keeping the necessary six-feet of social distance, then return home to wash and disinfect. Being outdoors can be uplifting.
Eat healthily. Don't indulge in carbs and sugar. Choose fruits and vegetables.
Do not visit grandchildren — or allow them to visit you. Children can be asymptomatic carriers of the virus and can unwittingly pass it on to an older relative. "What I tell my parents who are in their 70s, and my mother-in-law and patients is that the risks outweigh the benefits at this point," Dr. Soares says. "Remember, this isn't forever."
Stay in your room or a section of the house if you live with family members. Work out a schedule for the use of common areas with your housemates: separate your utensils, towels, and other personal items from those used by others.
Share an emergency plan with family and friends in case you get sick and live alone. How will you get to the ER? Who will you call? What do you need if you're admitted to the hospital?
Phone the UHealth geriatrician hotline if you need guidance or have specific questions or concerns. That number is 305-243-2169.
---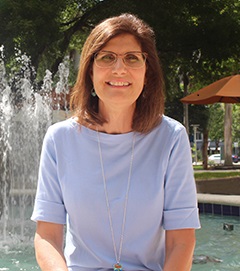 Ana Veciana-Suarez, Guest Columnist 
Ana is a regular contributor to the University of Miami Health System. She is a renowned journalist and author, who has worked at The Miami Herald, The Miami News, and The Palm Beach Post. Visit her website at anavecianasuarez.com or follow @AnaVeciana on Twitter.
Continue Reading